Les Cayes, Haiti — I quickly jump from our old Mazda four-wheel-drive truck onto an old Chinese-made motorcycle in a jampacked, dusty, hot road. They call it a "moto." There are thousands of them here in Port-au-Prince, Haiti. Just a couple of dollars; they will take you anywhere without stopping in traffic. I must take a flight to the south, where the earthquake disaster is. But in the meantime, I need to get there by avoiding deadly traffic jams.
They are, in fact, deadly. Haiti's traffic jams, which people call "blocus", are frequently targeted by gangs. Since cars obstruct passages and each other, these situations are rendered easy targets. Haiti is now the most notorious place in the world, as the kidnapping risk per capita has reached number one. Since the beginning of 2021, in the previous eleven months, over 600 people have been kidnapped in Port-au-Prince, which is populated by a couple of million people. 17 American and Canadian missionaries were kidnapped a month ago and are still being held as hostages at the time of writing this.
These kidnappings are organized by powerful gang groups that aim to gain ransoms. They are often much heavily armed than Haiti's national police. The departure of the United Nations peacekeeping forces a few years ago essentially created a large gap in security in this country.  The situation has grown so dire that a gang group was forced to take charge of an official ceremony held by the Prime Minister. This happened soon after Haiti's president was assassinated. You can even spot their gang leaders on social media as if they were public figures.
My trusted moto driver zips through narrow gaps between cars, ditches, sidewalks, everywhere. You may think I am crazy, but I know this is the safest way to move around this traffic. It is not worth it to try and catch a fast-moving single rider zigzagging through traffic.
Now my moto is arriving at a quiet new domestic airport. It is so different from the chaos outside. In a mere 30 minutes, I will be in the south, where the earthquake hit on August 14, 2021. Over 100,000 homes, schools, churches, and businesses were damaged. Working with the United Nations, Office of Project Services and Haiti Public Works (MTPTC), we have assessed over 60,000 structures to this date. It is critical that we fix and open these schools, businesses, and homes as soon as possible. People are waiting. We have more than 400 Haitian engineers and social workers on the ground working every day. An average of 1500 buildings per day is assessed. This is amazing under the circumstances—when gang groups often choke the flow of gas into the cities, usurping their control over the port and major roads. We even had to shut down the operation for two weeks due to a lack of gas. These engineers and social workers are a hard-working bunch, doing all they can for their country.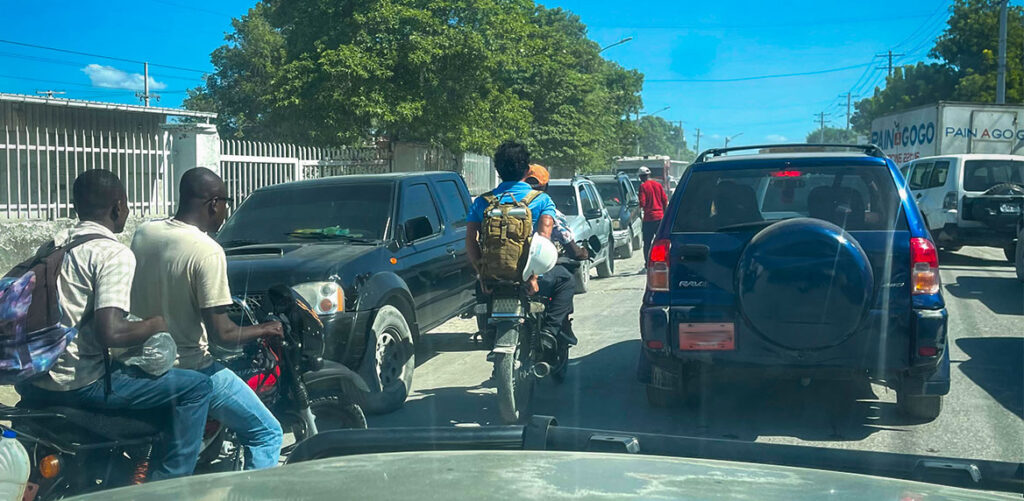 I get off from my usual small puddle jumper in Les Cayes airport. It is classic scenery, a one-strip airport, open-air and a one-room terminal. The people are a mixture of locals, kids, government officials and UN workers. I love this place. It is so remote and so beautiful, wearing its tropical green, blue sky and wild clouds. No gang groups. People are always laughing at little things, but even they have gone through such hardships for generations. Their energy and optimism are infectious, indeed. I do get energized here.
Many of my local friends have told me that this is the worst time they have ever gone through in Haiti. But many are still determined to stay, because they know things will get better, as always.