Prologue
January 18, 2010, Los Angeles, CA – Structural and Earthquake Engineer, Kit Miyamoto departed for Haiti with the Pan American Development Foundation (PADF). Miyamoto will provide structural engineering expertise to support PADF disaster relief efforts in Haiti.
"From my experience with disaster sites, together with the pressing scale of the humanitarian needs in Haiti, there will be limited resources to provide high level structural/earthquake engineering expertise. Providing this expertise is a key component of disaster response and it is very time critical," said Miyamoto, CEO of Miyamoto International and Global Risk Miyamoto. Miyamoto will assess structural stability of damaged structures; identify safe access for PADF personnel; and assess the overall structural damage conditions and how these lessons may apply to other countries.
PADF, a natural disaster relief arm of the Organization of American States (OAS), is a non-profit organization working in Haiti. PADF is sending emergency relief supplies including food, tools, telecommunications equipment and more, to contribute to the relief effort. PADF will be working with civil protection authorities, the private sector and community organizations to provide immediate and long-term assistance.
Haiti – January 19, 2010
I woke at daybreak and joined Dan and Daniel, the Pan American Development Foundation (PDAF) lead team, in the hotel lobby. Dan is a 20-year development veteran expat: tall, direct, and full of confidence and good stories. He is one of those go-getters who can think on his feet and act fast. He is assigned to lead PADF's Haiti relief efforts—a picture perfect role for this ex-Peace Corp guy wearing a bush hat. If you just had an M7.0 event in an unprepared, developing country, you would want him to manage the disaster relief effort. Daniel is a fun-loving, also tall, finance expert, fluent in French and fresh out of Afghanistan election security management. Daniel has solid emergency, high-pressure experience on his resume. He carries his tennis racket everywhere he goes.
I arrived in Santo Domingo, Dominican Republic (DR) late Sunday night to help PADF with earthquake damage assessment. PADF has sizable operations in both the Dominican Republic and Haiti and holds an important role in the Haiti relief effort. They use the Santo Domingo office as the logistics command center to send relief supplies to Port-au-Prince (PAP) via less crowded overland routes. The PAP Airport has been bottlenecked for several days now. The first convoy is scheduled to start on Thursday so it is critical to have the PADF Haiti office ready to go. I'm told that the PADF Haiti office was damaged and the staff was evacuated.
We hop into a raggedy, old Chevy pickup filled with water bottles, energy bars, coffee, food, medical supplies and satellite phones. These supplies are for PADF disaster relief workers in Haiti. We are planning to meet up with a fuel truck at the border. The fuel will supply emergency generators at the PADF offices and our vehicles. Gas is still scarce there.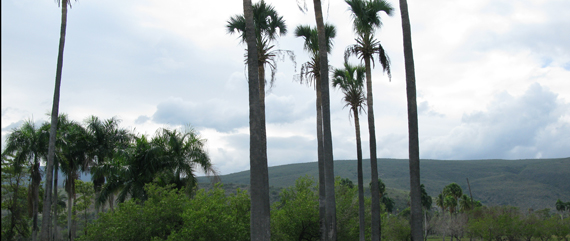 We drive through the beautiful and sunny, palm tree-filled, Dominican Republic countryside to Jimani. It reminds me of family vacations in Hawaii and road trips over large eroded mountains. Little villages along the road are colored with bright yellow and pink houses.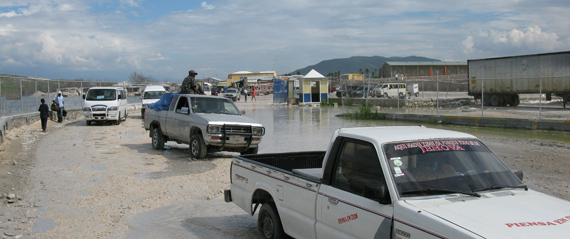 My first assignment is to drive the truck! I maneuver the truck over what seems like a thousand pot holes for four hours to the border station. When we reach the border, it is a crowded mess with Haitians trying to cross over to the DR and supply trucks heading the other way into Haiti. The scene reminds me of the cantina scene in the Star Wars movie. Dan is able to take care of customs smoothly with his diplomatic passport, fluent Spanish and Creole.
We enter Haiti at 1:30 pm. The scenery changes quickly. Crowded and poor, the colorful Spanish style houses in the DR are replaced with grey, concrete block (CMU) houses that look to be quickly built. Collapsed walls start appearing as we drive on.
The Port-au-Prince plain suddenly emerges.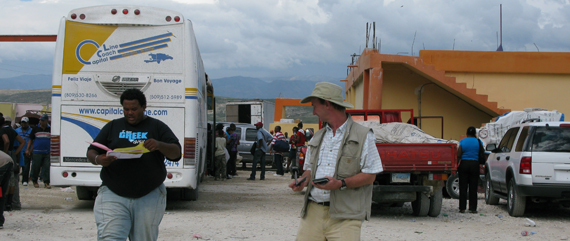 The sky is gray and humidity is high today. We drive toward the US embassy. I see a badly damaged modern commercial structure on my right; the CMU walls pealed out in agony from the main structure.
This is what we call out-of-plane failure. The steel frame inside the building is undamaged, but the building is totally unusable because of these failed walls.
To my left is the US embassy, a brand new, massively fortified fortress of a building. No damage is visible from the outside. There are several thousand Haitians lined up in front of the embassy to obtain visas to leave this destroyed city. I see several more pancaked concrete buildings as we travel through the city. At 3 pm, we finally enter the large PADF compound. I see a security detail with a shotgun. I am not sure if the sight of him makes me feel good or worried. It has been a week since the earthquake, and there is still inadequate water and food supply in this city. Tension and desperation are mounting.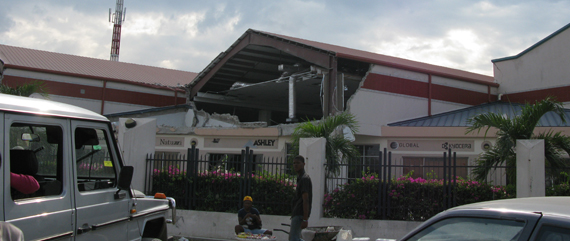 As soon as we exit the truck in the PADF compound, Dan immediately tasks me to inspect a damaged 2-story office that is cordoned off. This is a mission critical building for PADF. Without this command center, it will be very difficult for them to provide efficient disaster relief.
The building is a 2-year old, concrete structure with CMU infill walls. The floor consists of cast-in-place concrete beams and CMU floor with a cast-in-place concrete overlay to tie everything together. Damage is limited to shear cracks in columns and non-structural suspended ceilings that collapsed at the perimeter of the second floor. The shear cracks were caused by the non-structural CMU walls on each side of columns. The CMU walls basically confined parts of the columns and caused the classic "column shortening" problem. Stress and seismic demand are concentrated in the unconfined regions (at the windows) of the columns, leading to failures.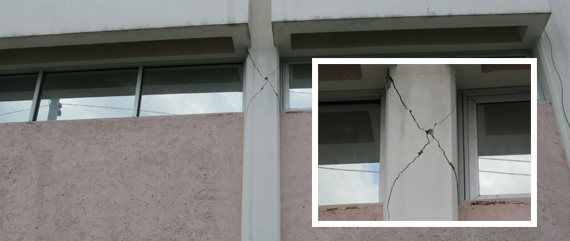 Fortunately, the widths of the cracks are limited. I identify safe building areas for PADF to occupy. Damaged areas are marked as non-occupied and designated to be repaired as soon as possible. Dan is relieved to hear the news and he heads back to a staff meeting.
I feel our work may have saved some lives today, at least indirectly. Now the PADF team can safely and effectively operate to save people.
A Japanese TV crew team from NHK learns that I am with PADF. I know them well from the M8.0 Sichuan, China earthquake reconnaissance work. A news reporter, Makita-san, interviews me briefly and asks if they can shadow us tomorrow. I believe that providing accurate information to the media for the public is a very important task at disaster sites. People have to understand the technical truth of destruction.
During my NHK interview, Dan enters the office and says, "We must leave now. It is not secure to drive after dark." Quickly, we leave the complex. It is dusk as we drive through the streets of Port au Prince. We see people roaming everywhere. Some women are carrying water from the distribution trucks.
Some people are just standing outside of half-collapsed buildings. We drive past several collapsed buildings on both sides of busy narrow streets. Parks are overcrowded with refugees.
Through this turmoil, we finally arrive at the house we are staying in. It is a beautiful house for a country director, but unfortunately we find very little food here. We dine on some bread, a couple of energy bars, and water. As we are exhausted, everyone quickly retires for the night.