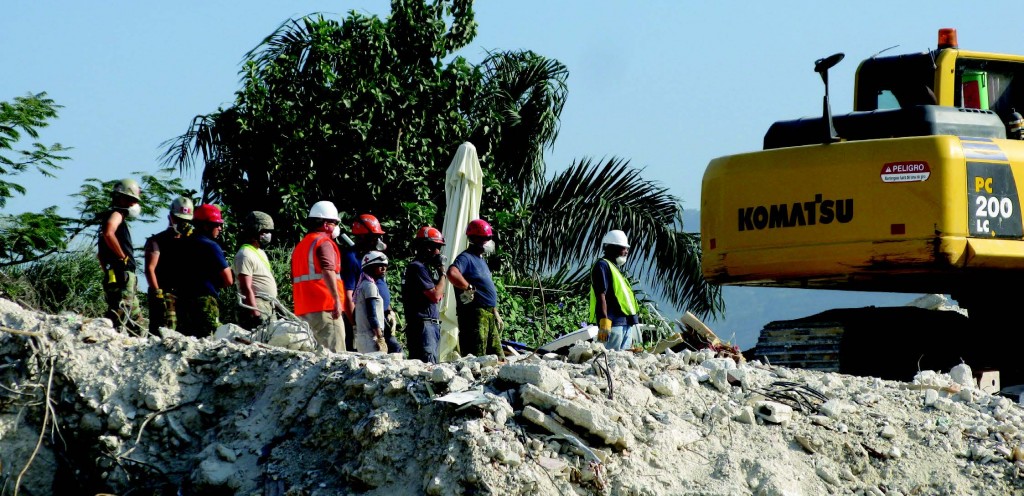 Waking up in post-earthquake Haiti has challenges and opportunities. We're here to help rebuild in a safe and sustainable manner. Today there are two sides of that great task that faces us, the Haitian people, the United Nations, and the international community, as a whole.
This morning, two government representatives came by our Petionville house. One is a senior official and the other is an adviser to President Rene Preval. Our discussion turns to a topic of great importance: schoolchildren.
I sit with my colleagues Lon and Guilaine as the official opens his briefcase and spreads out a set of architectural plans. As he opens them he says, "This is a prototypical plan for 28 schools that we want to build this year … but this plan was developed prior to the earthquake and we are quite concerned."
They have every reason for concern. It's been reported that 30 percent of the schools in Port au Prince collapsed in the quake. Personally, I've yet to see one school left standing.
Looking at the plans, images of collapsed schools flash through my mind and the stench of death flickers through my senses. I just can't believe what I am seeing; there are absolutely no earthquake-resisting elements!
The typical classroom is designed as a concrete block floor with concrete toppings over concrete beams — all supported by small, concrete columns. It's almost identical to the design that failed, causing so many schoolchildren to die in January. Basically, it was a house of cards.
Frustrated and sad, I tell them, "This structural system is totally dangerous. You must re-engineer this. The small columns at the corner of each classroom must be converted to be part of moment frames. It is not a drastic architectural change, but will have substantial impact on the safety and survival of students."
They seem to understand the points I'm making. The presidential adviser, added, "I understand your concern. I myself can see what's going on. And we need to build (the schools) as soon as we can. Many schools are collapsed and kids need classrooms."
Having spent the morning concerned about keeping school kids safe, our afternoon was almost even more profound when we met Nadine.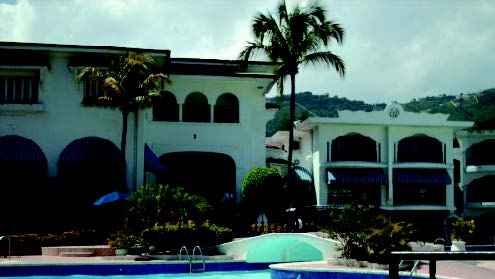 Nadine Cardoso-Riedl is an owner of the now-collapsed Hotel Montana, a landmark building located on a prominent hill in Port au Prince.
Once known for its peaceful grounds and four-star service, it is now no more. What's left of the hotel is a pile of concrete and twisted metal with the stench of still-decaying bodies trapped inside, all guarded by the US Army. About 200 people are estimated to have died in the collapse, while 132 were rescued.
The team passes through security to meet Nadine at the front of a conference hall (the only structure in the complex that survived the quake). She joins us as we inspect a nearby apartment building to see if it's structurally safe to reoccupy. Relieved that it is, she asks us to join her for lunch.
She and her family serve a swiftly prepared spaghetti. As we all settle in, Guilaine leans to me and says, "Kit, Nadine was buried alive for four days under five levels of concrete. She was miraculously found by the rescue crew from Columbia. She also lost her sister's grandchild in the earthquake. He was only five years old, and a cute little fellow. He was visiting that fateful day."
Guilaine continues, "And you should know that Nadine was kidnapped for ransom a few years ago, too. Now she's lost everything. Her hotel was her life. This family has gone through an incredible ordeal."
The earthquake is only part of this family's tragedy? It's a lot to process over a lunch.
Without missing a beat, though, Nadine tells me, "I have a vision to rebuild this place." I can hardly believe the spirit she's showing.
"I consider myself lucky," she says. "I am hurt but I can get proper medical care. I was downtown today. Our people are living in makeshift tents. They don't have anything."
She stares into the distance. My eyes are on her, admiring her strength. She and her family are going through this hellish experience, yet she talks of vision and hope?
She turns slowly to me with her clear, brown eyes … and smiles.