July 18th 2022
3:30 AM
Dubai
I am on a bus at 3:30 AM on my way to a flight to Kabul. The bus is crowded with Afghanistan families and businessmen and a few aid workers like us. I can hear Afghanistan kids speaking with American accents. Interesting… I never thought this would be the case. This midnight flight from Dubai is the only available commercial flight to this embargoed country. Taking off from LA, I have been flying for over 30 hours. I am getting exhausted.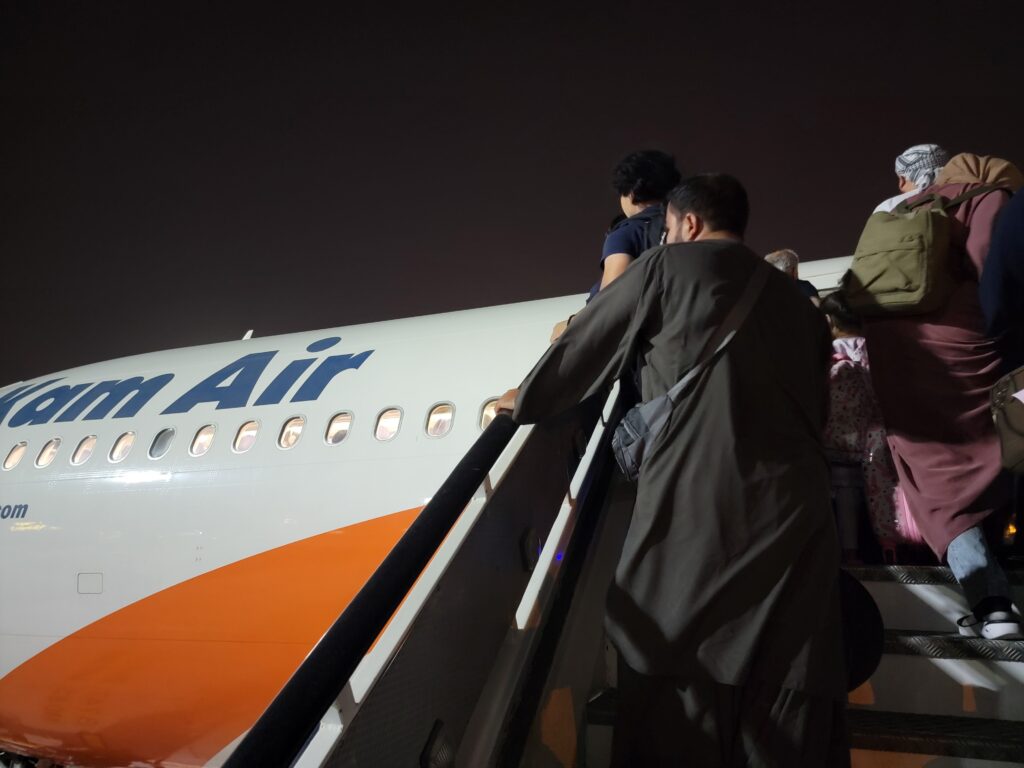 7:20 AM
Kabul
I land at Kabul International Airport at 7 20 AM on a Monday morning. It is a 1960s construction. Fairly small, but it seems very organized. Going through immigration, there are several De Facto Authority (DFA) with assault rifles and wearing traditional long garbs scanning the large empty room we foreigners are lined up in. They wear their hair long, and their skin is burnt by the sun. Their piercing blue eyes stare at me, as if telling me that they know what I'm thinking. The Immigration officers effectively usher us through the paperwork and even go as far as to fetch our luggage. Never had I received such services from Immigration before.
After a few minutes, I am out in the airport parking lot, under the morning sun and surrounded by fresh air. It was a much smoother process than I had thought. After all, this is the site where a deadly evacuation was carried out less than 10 months ago. It is hard to believe how peaceful the place seems. I notice a large Chinese billboard showcasing a new Chinatown they are building in Kabul. I heard that Chinese investment is robust. Embargos seem not to work, as half of the world do not follow America's marching order, any longer.
3:31 PM
UN compound, Kabul
Our team is sitting outside around a conference table. We are under the shade, but the hot summer sun is simmering the concrete in our vicinity.
The team consists of David, a veteran and famous humanitarian response personality; Mark, a trusted earthquake structural engineer who worked on many disaster response projects, from the Haiti earthquake to the Palu, Indonesia, earthquake disaster; and Shahzar, a local, respected program manager who used to work for many UN agencies. It is critical to have a trusted local partner when entering this country. They can really show you the way.
We are vigorously discussing with our International Organization for Migration (IOM) counterparts. The IOM is a part of the UN system and they have been in Afghanistan since 1992 supporting populations on the move. Our mission organized by the IOM is a critical one. In June, a major earthquake killed around 3,000 people and destroyed 9,000 houses. Our mission is to establish a repair methodology, identify repairable houses and inform the population about this. A severe winter is already around the corner. The damaged houses need to be repaired quickly.
The Afghanistan people are struggling economically, even this medium-sized earthquake can cause major issues for people living in the affected area. The earthquake site is on the southeast of the country, an area used by Al Qaeda. If you recall, Bin Laden was hiding out in a cave there during the US bombings. This will definitely be a challenging mission.