Kathmandu, Nepal – April 29, 2015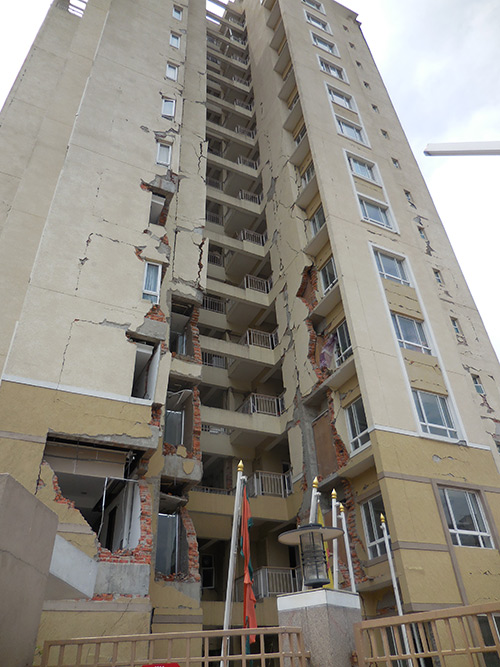 10:35 am
Our assessment team in Nepal so far is me, Sandeep and Manis. Sandeep Shah is from our Miyamoto India office and Manis is our Nepalese structural engineer partner.  He ran one of the largest companies with 30 people in Kathmandu.
Manis drives a little red Honda through the city.  The town is empty and all the stores are closed with not much action.  The apartments above the stores are all vacant.  The population essentially fled the town for fear of the next earthquake.  We notice a large modern complex of a high-rise condominium building along the dusty road.  As we approach the complex, we see large gashes and cracks on many of the walls. Some of walls are totally missing with furniture exposed inside. I hope no one fell with it.  A small lady sitting by the curbside asks me, "I am living in this house next door.  Can I go back to live in my house?" All of us decide to go into the gut of this building to see if there is structural damage.  I tell our guys, "We should get in fast and get out – and watch your head."
I lead and they follow.  Inside, it's dark and all the walls we see are either cracked heavily or have fallen out of position. We go up to the third floor.  We see no evidence of structural problems, but the architectural walls are so heavily damaged, it's created an extremely dangerous condition. We will need to red tag the building, indicating it's not safe to enter.
I'm heartbroken to inform the woman that she needs to evacuate her home. She tells me she doesn't know what to do or where to live.  Earthquakes create tremendous upheaval. This is something I just never get used to, no matter how long I do this, and even though in recent years I've pretty much lived in a disaster zone continuously.
12:30 pm, Ancient District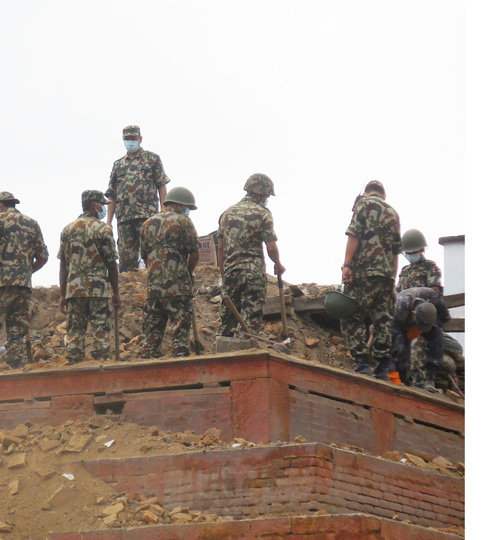 We are literally crawling through the ancient narrow streets of Kathmandu in Manis' car. Sometimes we pass through a little tunnel to get to the next square with a temple.  Damage is fairly limited in this area, although these buildings – made of brick, concrete and old construction – are very seismically vulnerable.  The damage is small because of the distance from the earthquake, a M-7.9 hitting about 50 miles from this town.  That distance is considered a long-distance event.  A distance event tends to damage taller buildings with high natural period.  Smaller structures like the ones found here endure a shorter period of waves from the earthquake. Most of these buildings must have been out of phase from the ground motion.
We step into a large square.  It is an astonishing site.  Large ancient temples and towers are now piles of bricks and broken wood.  Raji says that more than 200 people were buried in just one of these towers. These large structures had higher periods, so they likely resonated with the seismic wave.  It is so sad to see these incredible historical structures reduced to rubble. They were UNESCO heritage sites. So unfortunate… there were ways to seismically strengthen these jewels.  We lost a lot of history this week. 
After this, we check a few commercial buildings for Manis' client.  They are so happy to see international engineers. Then on to the U.S. State Department, who've asked us to assess some hospitals and hotels.   It's an unbelievably long day without a lunch, but it's also very rewarding.  Strangely, you don't really need food or sleep in a disaster zone.  The work is that important.  I stay up until 4 am tonight to communicate our findings with our California office and the media. I want the world to know what's going on and that Nepal needs their help.