L'AQUILA, Italy–The fire chief was waiting for us at the security gate to the hilltop old town center.  He assigned a fireman to drive and escort us through this abandoned city. I found the Italian people to be extremely friendly and helpful even under such extreme conditions. The three of us got into the fireman's four wheel drive truck and up the hill we went.
I asked him to stop the truck when I saw the destroyed building. It was a nightmare. This was a total collapse of a large 3-story residential concrete building. Many died at this site. I climbed up the rubble to examine the damage and found many smooth reinforcing bars; which are prohibited in many high earthquake risk countries.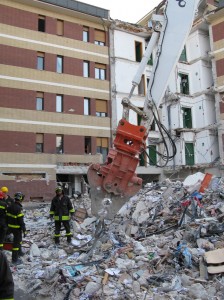 A mile down the road, the fireman pointed to a half collapsed building that was a college dormitory. There were about 100 young students sleeping when the earthquake struck. The collapse killed 12 of them.  This scene brought back the nightmare I saw in China last year. It sickened me to imagine how these students died. I started to smell the same dust and death that have been forever embedded in my brain.
From a distance, a recent exterior refinishing gave the dormitory a modern appearance. Upon closer inspection, however, I found it to be a typical 1960s non-ductile concrete building. Concrete structures built prior to the 1980s are very brittle and cannot withstand large earthquake forces. These are dangerous buildings in earthquake country. Students should not be house in them. It upsets me that we keep making the same mistakes all over the world. I look up from the destruction and see a couple of students digging through a pile of backpacks looking for their belongings.
We finally reached the old city.  Many buildings here were built in the 1400s, destroyed by a large earthquake in 1703 and then rebuilt. This old city is like a smaller version of Siena in Tuscany. The main difference was there were no tourists or residents, only police and firefighters. The police was there to prevent looting. Firefighters were wrapping up their search and rescue efforts.
Seismic strengthening is much more cost effective than repairing or rebuilding after earthquake destruction. We lost a lot of history this week

Dr. Kit Miyamoto
I saw many damaged and destroyed historical churches. Many residential buildings survived, however. Historical churches in high seismic areas are dangerous because they are made of unreinforced masonry, and have high walls, domes, towers and large rooms that are easily damaged.  These cultural heritage buildings could have been seismically upgraded.
At the end of our survey, the fireman led us into a small piazza. He said that this was his most favorite place in town. The piazza contained a small chapel with a bell tower and water fountain on one end. It has been a long day. In the dim light of the setting sun, the abandoned piazza surrounded us in sacred ambiance.