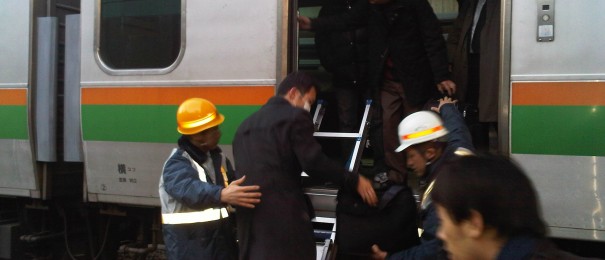 Tokyo, Japan (March 14, 2011) - Dr. Kit Miyamoto, the CEO of Miyamoto International, a global earthquake and structural engineering firm, reports on his experience on the 3rd day after the earthquake in Japan.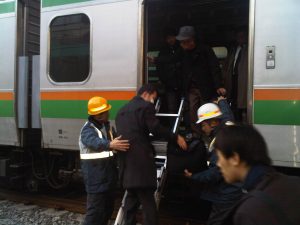 "My super packed train has stopped again. I am in the middle of Tokyo heading to Shibuya to catch a van to the North. The threat of a power outage has changed the train schedule. People are getting sick in the trains, since so many people are packed in tightly together and the train frequently stops due to sudden schedule changes.
"I sense a dark cloud of stress hovering over this well organized, advanced society. This earthquake disaster is evolving into something much more than anyone expected on Friday. We are expecting over 10,000 deaths now. Beyond damaged nuclear plants, many fossil fuel burning power plants are also damaged along the eastern coastline. Because of this, we are experiencing 4-hour rolling power blackouts in the cities to save energy,forcing many large stores and businesses to close.
"And the aftershocks continue. This constant rolling motion makes me dizzy. There is a 70% probability of a Magnitude 7 or larger aftershock in the next five days, which will cause more damage and potentially another tsunami.Many businesses and plants across the country, including Toyota, are closed because of damage to key suppliers. The total economic impact to society is still unknown, but it will be huge. The economic impact of this earthquake will be felt worldwide.
"Why did the sea walls and power plants fail? Aren't they engineered by advanced Japanese earthquake engineering technology? The answer is simple. Following a standard building code is not good enough to provide sustainability for a building or for a city. Many buildings in Japan are designed to withstand a Magnitude 7, or what engineers call a 500-year earthquake event. This has pretty much been the s
tandard worldwide. But often these forces are exceeded in earthquakes. If we engineered these sea walls for 10 meter tsunamis, if the cooling system of the nuclear plant didn't fail because the tsunami went over the sea walls, then the impact of this earthquake would be much less. Is it too expensive to do that? That question should be asked of the people in the cities that were swallowed by the Tsunami or the people in buildings that collapsed and can no longer be occupied. There are often cost effective, innovative ways to control the effect of disaster.
"It is getting dark. I am climbing up on the van heading toward Sendai. This will be a long ride."
About Miyamoto International
Miyamoto International is a global earthquake and structural engineering firm that provides critical services to sustain industries and communities around the world. The firm specializes in designing High-performance Earthquake Engineering solutions that reduce lifecycle costs and produce a positive net impact on a structure's operation. Miyamoto helps tackle some of the most challenging projects in the world from diverse offices in the Americas, Asia and Europe. The firm's clients include government agencies, private-sector organizations, developers, architects and contractors who desire highly effective and sustainable technical solutions.
Members of the press can obtain interviews in Japan by contacting:
Kit Miyamoto, Ph.D., S.E.
1.916.769.4909
kit@miyamotointernational.com
For more information, contact:
Jessica Stanton
Miyamoto International
1.213.598.8974
jstanton@miyamotointernational.com