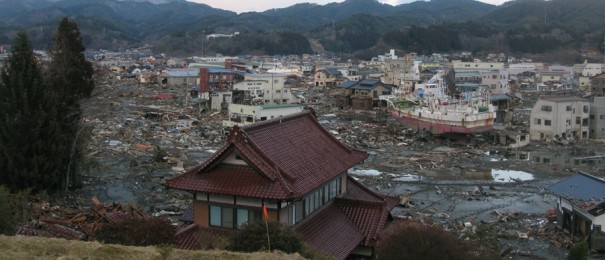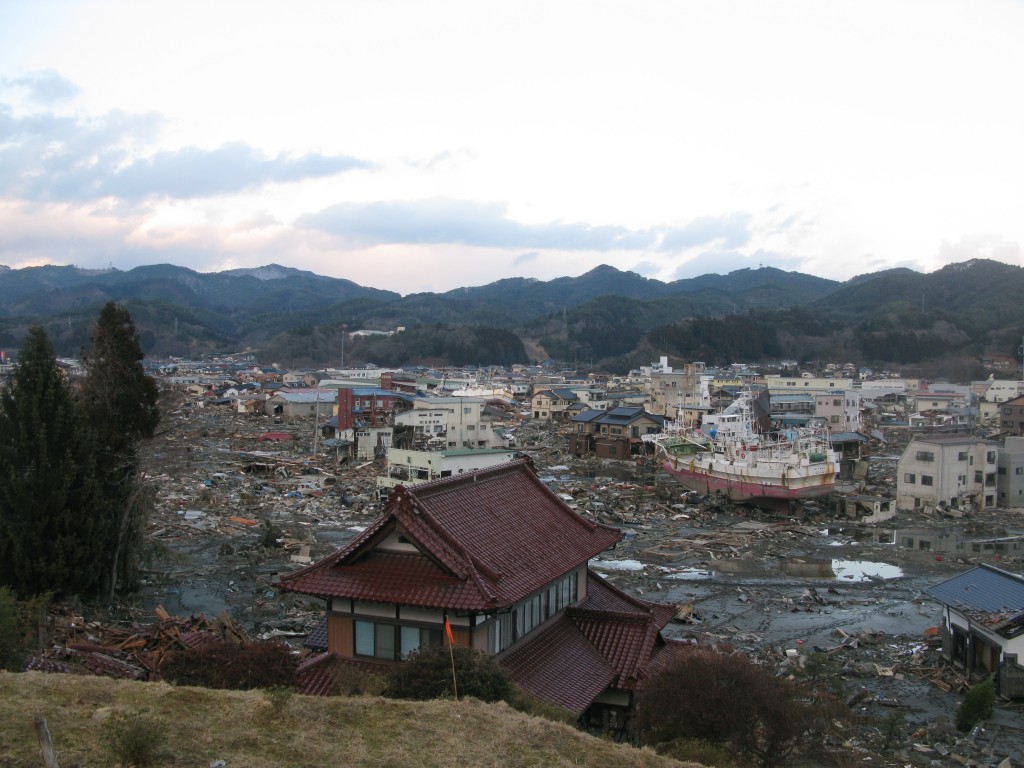 Kesen-numa, a once-vibrant community, sits in devastation from the ravaging tsunami
Sendai, Japan (March 18, 2011) - Dr. Kit Miyamoto, the CEO of Miyamoto International, a global earthquake and structural engineering firm, reports on his experiences in Sendai.
An ancient inlet valley surrounded by snowy mountains appears before me at sunset. But the smell of oil and death burns my nose at the same time. An old fisherman approaches me and points in the distance. "You see three oil tanks out there? These tanks created all the deaths here. A 10-meter tsunami overcame the seawall, and it destroyed the tanks and spilled oil into the bay. The oil caught on fire, and it became a hell of fire and water."
The bay turned out to be a source of destruction for this once-vibrant community of Kesen-numa. The tsunami carried the ignited water deep into the inlet valley. I remember this once-beautiful place that I bicycled through on hot summer days when I was in high school. That memory is quite a contrast from what I see in front of me—a half-snow-covered, charred mess. A cold wind hisses as it blows through the wreckage and debris.
I see several large ships landfalled a couple kilometers from the bay. They were deep-ocean tuna boats. If these ships came toward you with a burning tsunami, there would be nothing you could do about it. No buildings can withstand such things.
Narrow bays or inlets are very dangerous. Their shape increases the height and velocity of a tsunami. The effect is similar to squeezing a garden hose. The oil tanks were located in the most hazardous tsunami area with inadequate seawalls. These oil tanks require much taller seawalls if they cannot be on higher ground. To mitigate tsunami hazards, engineers cannot work alone. Collaboration with planners and architects is critical. It needs to be a holistic approach.
Earlier, I investigated downtown Kesen-numa. The downtown commercial district was in one of the many inlets in this town, and it was hit by about a two-story-high wave. I figured this out by observing watermarks on the surviving buildings. All the buildings that remained were reinforced-concrete structures. About 80 percent of the buildings were totally destroyed or taken out to sea by the retreating waves. All the destroyed buildings were made of wood.
A small elderly lady caught my sleeve and said to me, "I understand you are an engineer. I want you to see my house. " She showed me her three-story, mixed-usage building on a corner facing the bay. She was using the first floor as a store, the second floor as an office, and the top floor as her residence. She asked me to verify the structural safety of her building. She pointed out the large fishing boat on top of the dock and said, "That ship was pushed up by the tsunami. Fortunately, it didn't hit my house, but a 10-meter-high wave directly hit the house with its full force."
I walked through her concrete building, and I did not see any structural damage. I told her that her building was safe to occupy. I could see that she was very relieved, and she cheerfully resumed cleaning up the floor. Her building is a true tsunami-sustainable structure. She was able to continue living in her third-floor residence, which was untouched by the sea. It can be done.
About Miyamoto International
Miyamoto International is a global earthquake and structural engineering firm that provides critical services to sustain industries and communities around the world. The firm specializes in designing High-performance Earthquake Engineering solutions that reduce lifecycle costs and produce a positive net impact on a structure's operation. Miyamoto helps tackle some of the most challenging projects in the world from diverse offices in the Americas, Asia and Europe. The firm's clients include government agencies, private-sector organizations, developers, architects and contractors who desire highly effective and sustainable technical solutions.
Members of the press can obtain interviews in Japan by contacting:
Kit Miyamoto, Ph.D., S.E.
1.916.769.4909
kit@miyamotointernational.com
For more information, contact:
Jessica Stanton
Miyamoto International
1.213.598.8974
jstanton@miyamotointernational.com