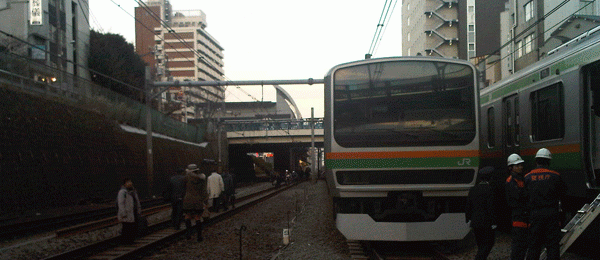 Reporting from Tokyo, Magnitude 8.9 Earthquake
Dr. Kit Miyamoto Reports from Tokyo
Magnitude 8.9 Earthquake and Tsunami Devastate Sendai, State of Emergency Declared in Japan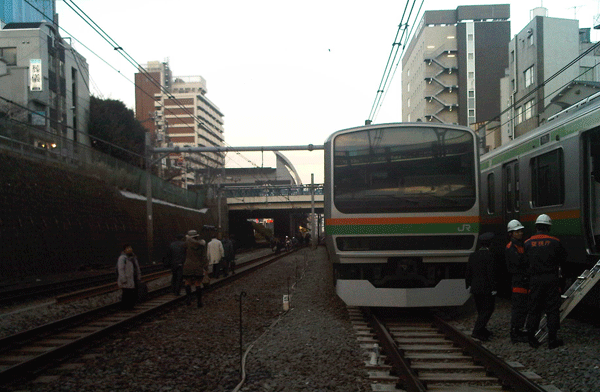 People being escorted off of the Japan Railway
Tokyo, Japan (March 11, 2011) - Dr. Kit Miyamoto reports, "I was in the train near Ikebukuro station when the train suddenly stopped with a loud creaking noise at 2:55 pm today. Japan's state-of-the-art earthquake system at work…. That's what I thought at first. But it has been a struggle since. It is 1:30 am now and we are still not far from where the train stopped. Japan Railway actually closed down the stations and sent out all commuters into the cold night. They announced that they are concerned about structural safety. Continuous aftershocks make me feel like I have car sickness as my family and I walk on the train tracks. I am concerned about the deep cough of my little daughter in the freezing night. I better find our way fast."
Dr. Miyamoto was presenting at the earthquake engineering conference in Tokyo Institute of Technology. He is now heading to the disaster site per client requests to conduct expert damage assessment.
Here are several findings.
Over 400 dead. Over 1,000 expected. Hundreds are reported missing.
Huge 13-foot tsunami damage along the eastern seaboard. Large areas of inundation taking out structures.
Fukushima Daiichi nuclear power plant shut down. 3 km zone was ordered to be evacuated.
A large fire erupted at the Cosmo oil refinery in Ichihara city in Chiba prefecture near Tokyo and was burning out of control.
In downtown Tokyo, a large building on fire and bellowing smoke in the Odaiba district of Tokyo.
In central Tokyo, trains were stopped and passengers walked along the tracks to platforms.
More than 4 million buildings without power in Tokyo and its suburbs.
The ceiling in Kudan Kaikan, a large hall in Tokyo, collapsed, injuring an unknown number of people.
The tsunami roared over embankments in Sendai city, washing cars, houses and farm equipment inland before reversing directions and carrying them out to sea. Flames shot from some of the houses, probably because of burst gas pipes.
Tokyo's main International airport, Narita was closed. Several thousand passengers are stranded.
A large section of the ceiling at the 1-year-old airport at Ibaraki, about 50 miles (80 kilometers) northeast of Tokyo, fell to the floor.
Dozens of fires were reported in northern prefectures of Fukushima, Sendai, Iwate and Ibaraki. Houses collapsing and landslides were also reported in Miyagi.
About Miyamoto International
Miyamoto International is a global earthquake and structural engineering firm that provides critical services to sustain industries and communities around the world. The firm specializes in designing High-performance Earthquake Engineering solutions that reduce lifecycle costs and produce a positive net impact on a structure's operation. Miyamoto helps tackle some of the most challenging projects in the world from diverse offices in the Americas, Asia and Europe. The firm's clients include government agencies, private-sector organizations, developers, architects and contractors who desire highly effective and sustainable technical solutions.
Members of the press can obtain interviews in Japan by contacting:
Kit Miyamoto, Ph.D., S.E.
1.916.769.4909
kmiyamoto@miyamotointernational.com
For more information, contact:
Jessica Stanton
Miyamoto International
1.213.598.8974
jstanton@miyamotointernational.com