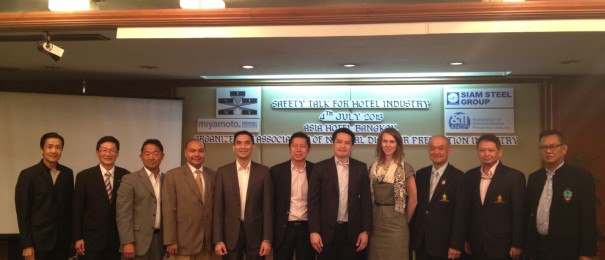 July 4, 2013 Thailand – The "Safety Talk for the Hotel Industry" was held at the Asia Hotel. Many hotel owners were in attendance to understand the risks to the community they service and their investment. The event was organized and sponsored by the Association of Natural Disaster Prevention Industry (ANDPI).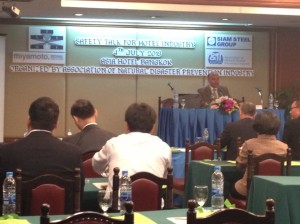 To start, Mr. Pran Siamwalla spoke on behalf of ANDPI on the devastation from various disasters such as the Sumatra Tsunami in 2004 – (240,000 deaths), the Nargis Cyclone in 2008 (120,000 death), Sichuan Earthquake in 2008 (80,000 deaths), the Haiti Earthquake from 2010 (316,000 deaths), the Japan Earthquake and Tsunami from 2011 (23,000 deaths), Hurricane Sandy in 2012 (285 deaths) and the local recent disasters: Thailand Drought 2013 and the floods from 2011.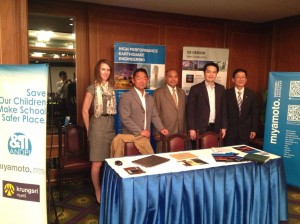 Mr. Siamwalla painted a picture of how the world is changing from aspects such as climate change to CO2 levels and the increase in natural disaster frequency. As well, he elaborated on the local disaster risks in Thailand and Bangkok and the similar characteristics the city shares with Mexico City, whom had a devastating earthquake in 1985. ANDPI is a strong advocate for a proactive not reactive approach to disaster mitigation.
The next speaker was Dr. Kit Miyamoto, from Miyamoto International who spoke about the risks to the Hotel Industry in Thailand.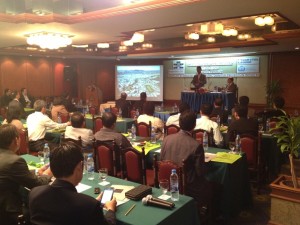 He gave a concrete example of the risk by sharing what he saw in Christchurch. For that country the code served it's purpose and saved many lives. However, the damage extends beyond the loss of lives. In that area, 1,500 building were lost out of 2,400. This had a substantial impact on national GDP as well business owner's investments; their earthquake insurance did not cover the full or even partial cost to replace and/or repair their buildings nor cover the loss from closed business operations.
To follow was Mr. Cherdsak Virapat who spoke on behalf of The International Emergency Management Society (TIEMS).
"We don't know what we need to know until we know it". TIEMS is an advocate for disaster awareness and preparedness in over 20 countries. TIEMS provides assist to hotels who want to be prepared for the next disaster. Their work involves educating facility staff and assisting the development and implementation of emergency procedures.
And the final presentation was given by Siam Steel who emphasized the fact that "Earthquakes don't kill people, building kill people". In addition they touched on the rapid high rise construction technology and modular building systems and how these can integrate into the hotel industry.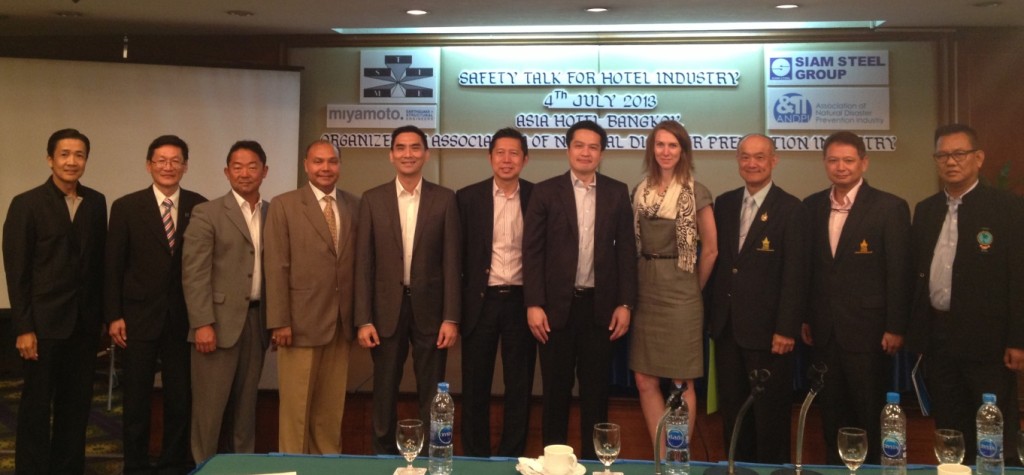 Thanks goes out to all those in attendance, many movers and shakers in the Hotel industry in Thailand, for their eagerness to understand the risks to their staff and guests and their willingness to move in the direction of making Thailand, an international hub for tourism, a safer place to vacation and conduct business